A Tenant's Guide to Avoiding Deposit Deductions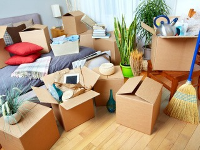 Despite what the news would have you believe, deposit deductions aren't inevitable. The key is to return your rental property in the same condition it was let to you in. 
Depending on how long you've been living at the property, certain levels of wear and tear may be considered fair - and thus not deductible from your deposit. Check out our previous blog on wear and tear and when it's fair by clicking here.
It's advisable to attend your check out meeting if given the chance, though if the things brought up during it aren't immediately fixable, you won't be able to return to the property to fix them!
7 Tips to avoid Deposit Deductions:
Use your check in report as your guide. Your check in is the standard your check out will be compared against. 
When cleaning, don't forget inside the oven, hob (and any other appliances), inside cupboards, skirting boards, window sills, and grout between tiles. All mould and mildew should be wiped down. Don't forget to vacuum the edges of the carpets where fluff and hair get easily missed. 
Gardens should be tidied, with lawns mowed and paths and patios cleared of weeds and leaf litter.
If you have painted during your tenancy and the landlord hasn't given permission for the room to stay that colour, you'll need to return it to the original colour.
If you've put up picture hooks during your tenancy and the landlord hasn't given permission for them to stay in the walls, you'll need to remove and fill them. Where there are a lot of holes in one wall, the wall may need to be repainted. 
Never 'touch up' paintwork to hide scuffs or scratches - it's the whole wall or nothing!
It might seem like a small thing, but put any contents, fixtures and fittings back where they were at the start of the tenancy. This makes it easier for the clerk conducting your check out to verify that they're still there and haven't been taken!
Cleaning 
Cleanliness is not subject to wear and tear and accounts for the largest proportion of deposit claims from tenants' deposits. The Tenancy Deposit Scheme (TDS) reported that almost 70% deductions made are for cleaning for tenants aged 18-24 years old.
Damage
If damage has been caused during your tenancy, you'll need to make good on it (by replacement or repair) before vacating. If you're unsure how to do this, speak to your agent for advice. 
If you have taken out tenants' liability insurance, contact your insurance company before you vacate to get the item replaced/repaired before you leave. If you're not sure if you have this cover, check with your insurance company. 
Pets
If you have pets, it's likely that your tenancy agreement contains specific clauses about additional responsibilities upon vacating the property. Most contracts will state that carpets should be professionally cleaned and treated for fleas when you move out. Copies of receipts should be submitted as evidence of any work undertaken. 
If there are fleas active in the property, you can instruct Swansea Council to come out and treat them. This can take a few weeks and several visits to eradicate, so ensure you plan in advance of your vacating date.
Keep Your Receipts
When a tenant gives notice, we resend out copies of the check in report to them, along with a letter detailing expectations for how the property should be left and reminders of easily-forgotten areas to clean. Our reports are compiled by Libra Energy & Estates, and their clerks make themselves available to offer advice for moving out, too. 
Should you feel it appropriate to hire a professional cleaning company, we are always willing to recommend qualified and insured contractors to you. If you do have work carried out by a professional, make sure you keep and provide us with a copy of the receipt. 
We would recommend booking any work to be done with enough time for you to visit the property and check it over before handing in your keys. The liability for ensuring the property is left in a clean and good condition always lies with you. 
Related: Preparing Your Property for Autumn and Winter / McCartan End of Tenancy Guide