5 Top Tips for Buying BTL Property at Auction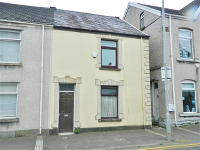 This month's Buy-to-Let Deal of the Month is 3 bedroom terrace property on Llangyfelach Road in Brynhyfryd that needs a little TLC – and it's up for auction. Click here to view the brochure.
With property prices increasing, more property investors are turning to auctions in the hope of snapping up a bargain.
Where once they were the domain of seasoned property developers and large corporations, there are now greater numbers of "regular" buyers attending auctions. Buying a buy-to-let investment at auction can be very profitable, but there are a few things you need to consider before taking action.
Here are our top 5 tips:
1. Don't be fooled by a low guide price.
Guide prices are meant to be just that – a guide - , and they are often set lower than the actual value of the property to create interest. Once the excitement of the chase sets in, it's easy for that price to start climbing!
2. Do some research.
This goes hand in hand with being cautious of guide prices. Auction catalogues are published just a month in advance, which gives you a narrow window to do some research into the property you're interested in. Look at house values by postcode to find out what it might be worth, and consider what work may need to be done on the property to make it tenantable.
3. Get organised.
 Once the auction catalogue is released, you'll have that month to arrange for a survey, instruct your solicitor to look over the legal documentation, and get your finances in order.
If you win a bid, you will be expected to put down the deposit on the same day, so you'll need to ensure you have cash ready and easily accessible. There may also be additional fees the auction house places on top of winning bids.
4. Set your limit.
The purpose of your research and organisation is to get a clear idea of how much the house is actually worth and how much you would be willing to pay for it. As you're investing in a buy to let, try not to get too attached, and don't let your love for a property keep you bidding over your budget.
Remember to budget for any potential renovation/redecoration work that will need to be done to get the property ready for let, and include this in the figures when setting your spend limit.
5. Put on your game face.
Auctions can be high-pressure situations and if you are attending more than one, you may find yourself in more than one bidding war with the same people who are looking for the same kind of properties as you are.
Confidence and a little bravado can go a long way, but at the same time, don't take it personally and don't let yourself get drawn in to squabbles outside the auction room.