Case Study: Uplands Buy-to-Let Renovation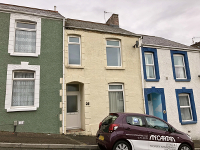 I've been working in the buy-to-let market in Swansea for over 15 years, and it's my aim now to use my knowledge and lettings expertise to help Swansea landlords and investors find property that matches their long term financial goals.
I became a Swansea property investor aged 24, and set up my letting agency business at the age of 26. At the start of 2018, I began offering a formal project management service. 
The Problem
One of my first projects since making the service more formal was for a relatively new landlord with a property in Uplands.
The landlord had bought the 2 bedroom terraced house (on what has become one of our favourite streets in Uplands) on the advice of a friend. Before he bought it, it was being let through another agent at a price of &500pcm. When that tenancy ended, the interior was outdated and looked tired.
After reading our blog and hearing of our service, he came to us looking for advice. We had a chat with him, went to take a look at the property, and recommended the property underwent some refurbishment including installation of a new bathroom, new carpets, redecoration, as well as a deep clean.
I discussed with the landlord the long term benefits of undertaking this work and offered to manage the project. He agreed!
The Solution
At McCartan, we work with a really good group of local, expert contractors.  I organised them to attend to quote for the work I'd proposed, and altogether the quotes came under the &10,000 budget I had been set.
We also needed to ensure the property was legally compliant for let, and so I ordered a full sweep of compliance certificates including Gas and Electrical Safety Certificates to be conducted.
The work was then completed on time, and I was able to deliver it &1,000 under budget. The standard of finish was high, so even through the market was seasonably slow, the property let very quickly to a professional couple looking for a long term tenancy.
With this refurbishment, we were able to achieve a rental price of &695pcm – a 25% increase on what it has achieved previously. The work also increased the value of the property overall to &150,000, representing a &25,000 capital equity for the landlord!
Specific Local Knowledge
Uplands is a hugely popular area with Swansea's single professionals, couples, and young families all being attracted to the area. We've blogged about it on a number of occasions now. Its location makes it ideal for easy access to the City Centre and major employers Swansea University and Singleton Hospital. It's not far from the beach or the parks, and Uplands Crescent has become a hotspot for new restaurants, clubs, and wine bars, as well as shops and amenities. Major transport links run through the area, so if you do need to travel a little further afield, it's not difficult.
In April this year, Uplands made a list of the top 20 "hippest" areas to live in the UK according to Travel Supermarket. The aim of the list was to provide an index of new places to discover, and points were awarded based on markers such as independent coffee shops, vintage fashion outlets, vegan cafes, art galleries, and the potential savings travellers could make by staying there instead of in the city centre.
At the time, I wrote an article on the area and how the rental prices had increased drastically there. Between April 2017 and April 2018, we saw properties in Uplands increasing in price from &550pcm to &750pcm, which is a stunning 36% increase. 
On Cambridge Street specifically, we know rents can range from &650pcm up to &850pcm depending on décor, size, and whether the property has sea views. They do tend to be older properties, so can have issues you need to keep a keen eye out for when purchasing, such as damp.
Advice and Project Management by McCartan
If you're a first time buy-to-let landlord, or if you're looking to grow your portfolio in Swansea, I'd love the opportunity to discuss your investment needs with you and suggest the best areas to buy to let to help you meet those.
Part of that includes bearing in mind things like damp in older properties, and any renovation work that may need to be done. If you'd like to appoint a project manager to undertake that work for you, I'd love the opportunity to discuss that with you, too.
You can reach me either by calling the McCartan office on 01792 430100, or clicking here to drop me an email.
Disclaimer: The information contained in this newsletter is of a general nature and no assurance of accuracy can be given. It is not a substitute for specific professional advice in your own circumstances. No action should be taken without consulting the detailed legislation or seeking professional advice. Therefore no responsibility for loss occasioned by any person acting or refraining from action as a consequence of the material can be accepted by the authors or the firm.
Related: Guide to BTL for New Investors / Buy to Let Deal of the Month