Demand Doubles for 40-Something Renters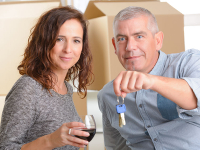 Before purchasing a property for let, one of the key questions you need to be able to answer is what type to tenant you are looking for. Not just in the short term, but long term; what sort of tenant will you be looking for in 10-15 years time?
Who is this tenant, where do they work, and does their age demographic provide any insight into what they might be wanting from their rental home?
First, we have to look back in order to look forward 
Back in the 90s, the expansion of university education increased the need for student accommodation. Once those students graduated, it was likely that they would carry on renting into the first few years of employment.
With demand for rental accommodation rising sharply for first-wave millennials, Swansea landlords and letting agents not specifically working in the student HMO market started to cater their accommodation to the young professional market.
Bring on the housing boom of 2002-2007 and the subsequent 2007 economical crash, and suddenly those who weren't on the property ladder were facing a struggle to secure a mortgage if they could get one at all.
Add in well-documented problems of affordability and lack of supply, and we have Generation Rent.
With two universities, both with campuses in the city, Swansea has certainly seen the student lettings market increase at an exceptional rate, and with a new campus having recently been built on Fabian Way, it doesn't look like it's about to stop.
40-somethings now twice as likely to rent than 10 years ago
The BBC are reporting that the number of middle-aged renters has doubled in the last decade, with 40-somethings twice as likely to be privately renting their home as 10 years ago.
So the problems of getting on the housing ladder are not confined to the millennials and, of course, if today's young people cannot ever get on the housing ladder, they will eventually be the middle-aged (and subsequently elderly) renters in decades to come.  
Compounding rental crisis
As tax and licensing reformation push more landlords to start to selling up, older, more established tenants with children who need stability in their accommodation are being squeezed in an ever-reducing market.
Research conducted by housing charity Shelter said two-thirds of private renters with families said they wished their children did not have to live in a privately rented home.
Hannah McCartan, MD McCartan Lettings comments, "3 and 4 bedroom homes are not the most obvious choice for a landlord to think to invest in as they are more expensive to purchase, and therefore don't have the same exciting return on investment as, say, a smaller terraced property would have.
However, we are seeing that properties of this size located near good schools in areas such as Killay, Sketty and Dunvant are in huge demand from exactly this demographic of tenant. There is so little available in a good condition for a family with children.
For Landlords who are looking at long term property investments, these are the types of properties that would attract long term professional tenants who are more likely to treat the property well and pay their rent on time."
Who will your tenants be in 10 years?
The Family Resources Survey conducted by the Department of Work and Pensions has found that nearly half of 25 to 34-year-olds rented their home privately by 2017, but the largest increase over the 10 years during and after the financial crisis were 35 to 44-year-olds. The proportion of private renters in this age group doubled from 13% to 26%.
The proportion of 45 to 54-year-olds renting from a private landlord rose from 8% to 14% over the same period.
In the current housing market, it is looking pretty certain that in 10 years' time, the news headlines could well be saying the 40 to 50+s make up the biggest proportion of renters. Thinking ahead to what your target tenants will be wanting from a rental property in later life and starting to planning your property portfolios accordingly could really be a savvy move.
Thinking to invest in BTL in Swansea?
At McCartan Lettings, we have over 30 years' combined experience in the rental market in Swansea, and we are proud to call ourselves Swansea's rental property experts.
If you would like a free 45 minute consultation on the best places to BTL in Swansea for your investment needs, please send us an email by clicking here.
You can also read our guide to BTL for new investors by clicking here, and subscribe to our free monthly newsletter containing our buy-to-let deal of the month by clicking here.
Related: Quick Pre-Let Checklist for Landlords / Kingsway Regeneration to Boost Rental Demand