According to the latest The Sunday Times Best Places to Live Guide published last week, the best place to live in Wales is Mumbles, in Swansea!
Its multi-million pound "renaissance" development and the chance you might walk into Catherine Zeta-Jones or Bonnie Tyler whilst having an ice cream on the pier are listed among the reasons for its inclusion.
The Guide also comments on Mumbles being a "great place to bring up children" due to its proximity to good parks and beaches, and  the recently-released Welsh schools colour codes show that the village is within catchment for a number of highly-rated schools.
Mumbles has never been featured in the Guide before.
But is Mumbles a good place to invest in Buy-to-Let?
Daniel Hegarty, founder and CEO of Habito who helped compile the Guide, said "Swansea was found to be one of the most affordable cities for first-time buyers in the UK last year". However, according to portal giant Zoopla*, the current average asking price for a 3 bedroom house in Mumbles is £277,052. A 4 bedroom house costs almost twice as much.
The current asking rent in Mumbles for a 3 bedroom house is £764pcm, which makes only a 3% return on investment (yield).  The yield decreases to 1.8% on a 4 bedroom house.
Even with the high property prices, rents in Mumbles are much higher than the average for Swansea as a whole. When considering investing in buy-to-let in Mumbles, you need to think about what types of tenants could afford to live here instead of in more competitively priced areas such as Killay and West Cross – especially given that many of Mumbles' attractions are easily accessible via bus or car.
Access to good local schools wouldn't necessarily support a move to Mumbles, either, as the whole region is performing well, with popular comprehensives Olchfa (in Killay) and Bishopston (in Bishopston) scoring top marks.
Mumbles vs Bishopston
Last year, we reported that the Sunday Times had named the Gower in its Best Places to Live in the UK Guide, and put in a special mention for Bishopston. We concluded that although it was not a great location for investors looking for high yield, there were good reasons not to rule it out as an investment location.
There was the added draw with Bishopston, too, that the Times had ranked Bishopston Comprehensive as the top secondary school in Wales.
Mumbles is, without doubt, a desirable place to live, and further development work has already begun on the seafront to extend to the pier itself.
House prices have increased in the last 5 years, but remain below the UK average, unlike Bishopston, which has continued to increase and remains above the UK average.  This begs the question of whether there might be better places than Mumbles to invest in if you've interested in capital appreciation.
Mumbles*: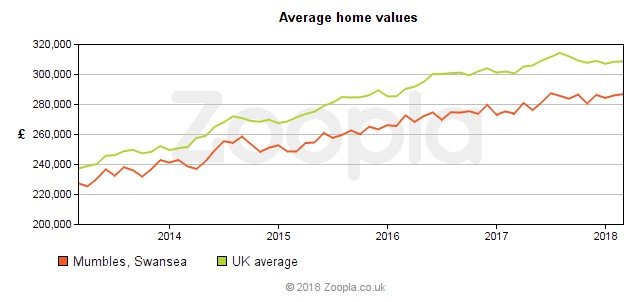 Bishopston*: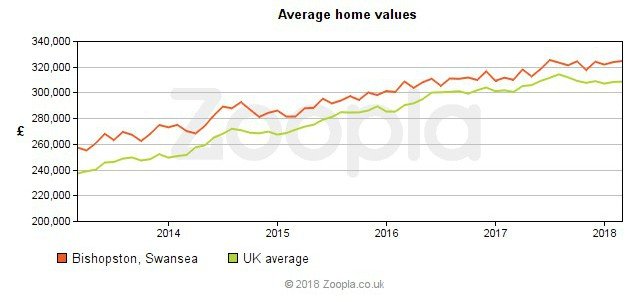 If you are considering which areas in Swansea are best for your next buy to let investment, please do not hesitate in giving us a call to arrange a free 30 minute consultation on 01792 430100, or drop me an email at hannah@mccartanlettings.co.uk.
Disclaimer: The information contained within this article is of a general nature and no assurance of accuracy can be given. No action should be taken without consulting the detailed legislation or seeking professional advice. Therefore, no responsibility for loss occasioned by any person acting or refraining from action as a consequence of this material can be accepted by the authors or the firm.
Sources: The Sunday Times / *Zoopla Area Guide (as at 16/03/18) / Wales Online / BBC / My Local School
Related: Bishopston named Best Place to Live in Wales 2017 / York named Best Place to Live in UK 2018