Step Forward for Kingsway Regeneration and Tidal Lagoon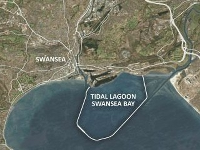 Swansea Council
are hailing EU investment in the Kingsway Infrastructure Project, "digital village", and a revised bid for the Tidal Lagoon as major steps forward for the City Deal that will transform Swansea in the coming years.
The Kingsway
The Wales European Funding Office (WEFO)
have announced an investment from the EU of &4.5m for the Kingsway Infrastructure Project.
As part of this project, two buildings in Oxford Street will be demolished to create a new link between the bus station and the Kingsway. It will see 850 square metres of new office space created within refurbished buildings on the Kingsway, which is believed will attract companies in the digital sector and contribute to the creation of a "digital village".
Rob Stewart, leader of Swansea Council, said "The EU funding is a key part of the story that will enable us to get on and transform the Kingsway and the city centre.
"It'll help us create new public areas where people can sit, eat and relax. We'll use contemporary design to enable public events, parades and gatherings to take place.
"The support we're getting via the Welsh Government's Wales European Funding Office will help us create more public leisure space in the city.
"This will help to attract jobs and investment and to support the new city centre we are building, and also, importantly, simplify traffic flows across the city centre and make it easier for people to get from east to west.
Hannah McCartan, Managing Director of McCartan Lettings, said "Surrounding areas to the Kingsway, such as St. Helens Road, should benefit from the development and investment.
By making the Kingsway a more desirable place to visit, along with the added employment benefit, it will ultimately make living in the area more appealing. We are anticipating rents on apartments in the area to rise but with that property prices as well".
The Tidal Lagoon
A revised offer has been put forward to Westminster for the Swansea Bay Lagoon. This comes after the Welsh Government announced in January it had offered a "substantial investment" to try and get the long awaited project over the line.
A review of the project has been conducted, but ministers are yet to respond to its more than a year since it was published.
There is hope; Mr Graham, who represents the city of Gloucester where the company who will be building the lagoon,
Tidal Lagoon Power (TLP)
, are based, revealed that the company had now revised their offer and were proposing the same terms as those accepted by the Government for the Hinkley Point C nuclear power station in Somerset.
'Huge potential'