Buy-to-Let Deal of the Month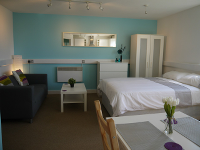 Whilst
having a Grand Plan
helps you to focus on making the right investment decisions for you, there does have to be a degree of flexibility with it. Your circumstances - and thus your investment needs - are likely to change over time, and reviewing your portfolio and taking stock of your position is just as important if you're to ensure you're getting what you want from your investments.
After reviewing my own portfolio and being faced, now, with the opportunity to buy my forever family home, I realised that my own investment needs have changed. Therefore, I have made the decision to sell one of my properties.
It's an immaculate top floor apartment in the heart of Swansea City Centre, primly located to benefit from the
Kingsway Regeneration and new Digital District development
. Recently redecorated and updated with modern furnishings and with a tenant already in situ, it doesn't need any work to make it ready, and there would be no void period.
Included in the sale are:
all furniture and furnishings as listed in the Inventory & Schedule of Condition Report
All certificates and reports (electrical cert, inventory)
Free full property management on this current tenancy for up to 6 months with McCartan Lettings
Free tenancy set-up on this current tenancy*
There are some numbers to consider; there is a ground rent of £50 per annum, and service charges of £162.63 per quarter. As McCartan are a lettings-only agent, I have put it on the market with Clees for offers in the region of £75,000. At this price and with it currently achieving £425pcm, yield would be over 6%. With the Kingsway Regeneration underway and set to increase demand in the there, there is the opportunity in due course to increase the rent to £475pcm, which would give a yield of 7.6%. 
Since I bought the apartment in 2004, the longest void period I've experienced has been 3 weeks.
*If the purchaser decides to keep the tenancy but not under management with McCartan, they will be responsible for completing the relevant paperwork and serving the appropriate notices.
Disclaimer: The information contained in this newsletter is of a general nature and no assurance of accuracy can be given. It is not a substitute for specific professional advice in your own circumstances. No action should be taken without consulting the detailed legislation or seeking professional advice. Therefore no responsibility for loss occasioned by any person acting or refraining from action as a consequence of the material can be accepted by the authors or the firm.