Floating Community in Swansea Bay 'Financially Viable'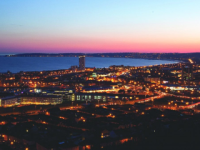 Following the failure last Summer to secure Government funding for the long-awaited Tidal Lagoon, a brand new, larger and more ambitious renewable energy project has been proposed for Swansea – and a new report has already deemed it to be "financially viable".

Dragon Energy Island, to be build off the Swansea coast, would incorporate the original tidal lagoon plan but also generate other forms of renewal energy, including solar and hydrogen.

The island would also have floating modular homes and an underwater data centre.

Swansea Council Leader and Chairman of the City Region's taskforce Rob Stewart said there is huge support to deliver the project, and that there is "considerable interest from major companies in turning this opportunity into a commercial reality."

The report, produced by Holistic Capital and commissioned by the taskforce found there was potential to make significant savings of up to 30% on the capital costs of the project. If the search for a private sector partner due to start this Summer is successful, construction of the island could start in 2021.
"a new floating community of homes and businesses"
Cllr Stewart comments, ""The tidal lagoon is at the heart of the new proposal and gives us the opportunity to create a new floating community of homes and businesses within the sea wall. This has already been successful in countries like Holland, Germany and Denmark, providing a sustainable solution to issues including population density and climate change.

"This project will place Swansea Bay at the forefront of worldwide marine energy innovation, create thousands of jobs, boost local supply chain businesses, and help develop a globally significant export industry in Swansea Bay."

The promise of new jobs for the area would be welcome following recent news that Ford Bridgend will be ceasing operations.

If successful, the island will draw investors and workers to the area. Come 2026, we could be conducting viewings for properties out in the sea!
Climate Change and the Well-being of Future Generations Act
At the end of April 2019, Environment Minister Lesley Griffiths declared a state of climate emergency in Wales. The declaration was to "send a clear signal that the Welsh Government will not allow the process of leaving the EU to detract from the challenge of climate change, which threatens our health, economy, infrastructure and our natural environment".
The Dragon Energy Island proposal meets all the needs of the Well-being of Future Generations Act, and builds a Homes as Power Stations project which is being part-funded by the £1.3 billion City Deal, a strong indicator that this time around, the plans could be successful.
The energy generated by the underwater turbines on the island is intended to power thousands of homes across Swansea and beyond.
Knowing your home will be powered by renewable energy that promises to be affordable will be a draw for environmentally-minded tenants going forward too, alongside being able to boast about living out at sea!
Sources
:
Swansea Council
/
Welsh Government