Online agents "inferior for contact, know-how and trust"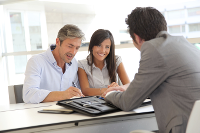 A recent survey has revealed that potential buyers and sellers perceive online estate agents as less knowledgeable, harder to get hold of and less trustworthy than their high street counterparts.

This survey was carried out by the BIO agency, who collected responses from over 2,000 participants. Their findings give an interesting insight of customer's perceptions of online estate agents.

According to the results, the number one reason that dissuades customers from using an online estate agent - chosen by 27.5% of respondents - was because they preferred to have someone to speak to throughout the process of buying or selling a home. With other studies showing that many people feel that moving house is one of the most stressful events they have ever gone through (ranking higher than a divorce) it is more than understandable that customers need a consistent point of contact to help guide them through the many complicated processes.

Another popular perception was the commonly held belief that a traditional, local branch would have a deeper understanding and knowledge of the area's property market, chosen by 18.3% of respondents. If you're selling a home, a local expert can fill you in on recent sales in the area, if you're buying a home they can provide you with information on the surrounding neighbourhood, the best schools and what local amenities are in the area. This local knowledge gives them an advantage that online agents do not possess.

The third highest ranking response was 'lack of trust' at 13.5%, which ties in neatly with not being able to see a real life person. It's unsurprising that many would like to attach a trustworthy name and face to the most expensive purchase and sale they will ever make.

While the respondents reasoning for choosing a local agent aren't surprising, it's clear that the benefits of using a traditional high street agent are still very important. Whether it be local knowledge or the personal service that comes with using a local expert, when it comes to selling or buying a home customers want someone they can trust. 


  

If you're looking for a trust worthy high street agent to rent from, McCartan Lettings are here for you. You can view our properties here or you can call us on 01792 430100.