Swansea in Race for City of Culture 2021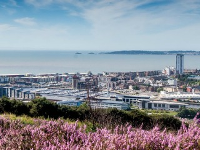 Yet another positive boost for Swansea as the city has made the final shortlist in the race to be named City of Culture 2021.
Hull is the current City of Culture, pipping Swansea to the post back in 2013.
Sunderland, Coventry, Paisley, and Stoke on Trent are the other finalists. The winner will be announced in December, and will benefit from &3 million Heritage Lottery Fund Grant. 
Council Leader Rob Stewart said, "We are very excited to have passed this key milestone in achieving the status of UK City of Culture 2021 and I want to thank everyone in the Swansea community who has already taken this important campaign to their heart.
"This stage in the competition is tough, but the benefits of winning belong to us all so I would urge everyone to get behind Swansea's campaign and show the assessors that we are ready to deliver this.
"We want every single person in Swansea to be a part of this process and to gain from it. This is our city, we are 'Team Swansea', so please look out for our Swansea 2021 campaign over the coming weeks and months and do all you can to get behind it.
"You only have to look at what the UK City of Culture 2017 has done for Hull to see how valuable this initiative is.
"The city, its people and its cultural offering have been put on the map, they have created some head-turning cultural events and projects, and it is estimated that the value of investment in their programmes and in their city centre comes in at more than &100m in funding from bodies like the Arts Council and the National Lottery and from private businesses based in and investing in the city."
1.4 million visits to Hull have been recorded so far this year.
If Swansea were to win the deal, it would mean millions of pounds pouring into the city with new infrastructure works.
More than &30 million is being spent on the year's events in Hull, and &25 million has been invested in revamping the city centre and refurbishing its Ferens Art Gallery and the city's main theatre.
Now it has made the shortlist, Swansea's UK City of Culture 2021 team will work towards their final bid.
Sources: Swansea Bay Futures / BBC/Gov.UK / Swansea 2021 / Hull 2017/ Visit Swansea Bay