Update on EPCs: Funding Applications Trigger Consultation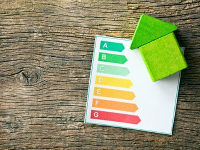 A new Government consultation could mean landlords will not be exempt from making improvements to the energy efficiency of their properties if they are unable to source funding.
Further to our article on the EPC regulation changes coming into effect this year, the Department for Business, Energy & Industrial Strategy (DBEIS) have announced the launch of a consultation into removing the "no cost to the landlord" principle from current guidance.
"Landlord Funding Contribution"
From 1st April 2018, landlords will no longer be able to let out a property with an EPC rating of F or G. In December last year, guidance from the Government suggested that landlords would not be expected to pay for renovations to increase the energy efficiency of their properties out of their own pocket.
Interestingly, this meant that if a landlord was not able to obtain funding to undertake the recommended improvements via one of four options (detailed in our previous article), they would be exempt from meeting the minimum energy efficiency level.
DBEIS wish to introduce a "landlord funding contribution" element if the landlord is not able to obtain suitable 'no cost' funding.
A landlord contribution cap of &2,500 per property has been discussed in Government.
The Consultation
The consultation is open until 13th March (2018), with the Government intending to issue its response to the results in Spring 2018. You can read the consultation in full by clicking here. 
Risks
The National Landlords Association (NLA) is set to respond to the consultation. and is in disagreement with the introduction of a cost cap, although the departure from the previous suggestion of &5,000 is welcome.
It argues that the imposition of a cost cap will raise the financial burden placed upon landlords, with the risk of costs being passed on to tenants. Another unsavoury outcome is the potential for affordable housing to be taken from the sector as landlords become burdened by increased costs.
The NLA website states: 'We are disappointed that the proposals outlined in the consultation do not include the reintroduction of the Landlords Energy Saving Allowance (LESA), which was scrapped in 2015. The NLA had called for its reintroduction in last month's Budget as a means to incentivise and encourage energy efficiency improvements across the whole sector, not just at the bottom.'
We will report the outcome for our subscribers as soon as we know the outcome of the consultation.
Sources: Landlord Knowledge / National Landlords Association
Related: Update to Energy Performance Guidance / Planning Ahead for 2018
Newsletter disclaimer: The information contained in this newsletter is of a general nature and no assurance of accuracy can be given. It is not a substitute for specific professional advice in your own circumstances. No action should be taken without consulting the detailed legislation or seeking professional advice. Therefore no responsibility for loss occasioned by any person acting or refraining from action as a consequence of the material can be accepted by the authors or the firm.