Buy to Let Deal of the Month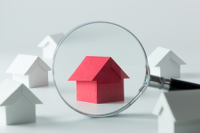 This month, I have found this excellent 1 bedroom flat in Sketty. Its proximity to Singleton University and Hospital make it ideal for the professional market.
We currently rent and manage an identical flat in the same block that easily achieves &550pcm, which would provide an impressive 7.76% yield on this property's asking price. 
These properties are very low maintenance, and this one in particular has been modernised already, making it perfect to go straight out on the rental market to let. 
One thing to take into consideration is that the service charge on this property is &95 per month, instantly eating into the profitability of the property. However, if location and long term professional tenants are what you are after (and at an affordable price to you), this property could be of interest to you. 
If you are looking to invest in property and would like some advice on where the best places to buy in Swansea are for your investment needs, please don't hesitate to give the team a call on 01792 430100, or email me to book a free 30 minute consultation.

Newsletter disclaimer: The information contained in this newsletter is of a general nature and no assurance of accuracy can be given. It is not a substitute for specific professional advice in your own circumstances. No action should be taken without consulting the detailed legislation or seeking professional advice. Therefore no responsibility for loss occasioned by any person acting or refraining from action as a consequence of the material can be accepted by the authors or the firm.