2018: The Year Ahead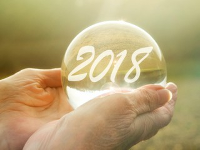 We are very excited about the future of Swansea's property market, particularly Swansea's Buy-To-Let sector.
As we eagerly await news on the Tidal Lagoon and work starting on the City Project, the housing market in Swansea hasn't had a buzz like this since WW2.
Having campaigned for best practice procedures and regulation of the property industry, we are pleased to see that Rent Smart Wales are raising the standards in lettings and policing licensing.
As ever, there will be changes to our sector that will impact landlords this year, but we are here to guide our landlords and tenants though the adjustments.
Swansea in Top 3 Cities for Rental Growth in 2017
At the start of last year,  we reported that Rightmove's annual rental price index report showed that  rents in Swansea rose by 11.4% in 2016 - the highest annual rise in rents across the whole of the UK (outside London).
In 2017, Rightmove's Quarterly Rental Price Index for Q2 named Swansea in the top 3 cities in the UK for rental growth. The report showed a year on year increase of 10.2%, and their Q3 report, a year on year increase of 8.2%.
However, referencing agency Homelet reports that rents for new tenancies across the whole of the UK rose at a slower rate than inflation for each month in 2017.
We anticipate that rents in Swansea will continue rise in 2018, but more slowly, and not as much as in previous years.
Serious Swansea landlord investors will remain ahead of changes
George Osbourne and his tax reforms for landlords, coupled with the extra 3% stamp duty for second homes, and generally tighter regulation, have meant that many casual 'dinner party' landlords have sold or are planning on exiting Swansea's rental market shortly.
This has left a door open for more serious landlords; there are still tenants looking for quality homes in high demand areas in Swansea.
For example:
Case Study 1
We helped a landlord focus his search for his next investment property to the Gorseinon area of Swansea. We discussed the types of tenant he could attract with the right property, presented in the right way for them. He sourced a 3 bedroom property at auction which, after extensive renovation, let on the first viewing within a week on going on the market. It went for &550pcm, to a professional couple. 
Case Study 2
A portfolio landlord understood the need to upgrade their 2 bedroom property in Fforestfach to attract a more professional tenant who would want to make the house their home, look after it, stay longer, and thus ultimately pay more in rent. We worked on a detail budget with the landlord, made a renovation plan, and within 4 weeks, the property was re-let for &500pcm to a fantastic couple. 
Rent Smart Wales Update
177,000 properties, and 87,000 landlords have now registered with Rent Smart Wales, with 19,327 landlords and 2,916 agents now licensed.
Although the majority of landlords and agents in Wales are now fully compliant with the legislation, there are sadly some who continue to operate illegally. RSW are taking action against those who are currently not compliant, with fixed penalty notices of up to &250 being issued and prosecutions taken forward.
To date, they have issued 185 Fixed Penalty Notices and taken 15 prosecutions for RSW offences. If you are aware of a landlord or agent who is operating without a licence, please report them to Rent Smart Wales on 0300 0133 344.
Sales Market
House prices in Swansea increased by 7.7% last year, smashing the national average of 2.7%, according to a report by Halifax.
Swansea was ranked in the top 20 towns for highest growth, and was the only Welsh region to feature in the report.
That 7.7% growth translates into an additional &11,774.00 for Swansea buyers, or &11,774.00 in equity for Swansea home owners and investors.
With more exciting news ahead for Swansea, we anticipate more growth in house prices in Swansea over the next 12 months.
If you are looking to invest in property and would like some advice on where the best places to buy in Swansea are for your investment needs, please do not hesitate in contacting us to book a free 30 minute consultation. Give the team in the office a call on 01792 430100, or click here to email us.
Source: Property Industry Eye
Newsletter disclaimer: The information contained in this newsletter is of a general nature and no assurance of accuracy can be given. It is not a substitute for specific professional advice in your own circumstances. No action should be taken without consulting the detailed legislation or seeking professional advice. Therefore no responsibility for loss occasioned by any person acting or refraining from action as a consequence of the material can be accepted by the authors or the firm.