McCartan Raises Funds to Support Local Playground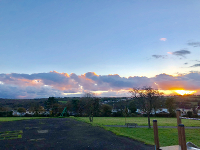 Earlier this month, I completed the Aspire Channel Swim Challenge – a 22-mile swim in 12 weeks, the equivalent of swimming the English Channel from Dover to Calais!
I am now proposing to swim back to the UK for the Friends of Dunvant Park charity who are raising funds to install a fence around the playground, making it a safer and more family friendly environment for everyone who visits.
The challenge starts this week, and I aim to swim the 22 miles back by Valentine's Day 2019.
As a member of Killay/Dunvant community, I use Dunvant Park regularly. It's a wonderful space to take a walk and get some fresh air, and the playground is full of equipment to keep my toddler entertained!
I am aiming to raise &5,000 with this charity swim to supply the fence as there are no grants available for this kind of project, so it is down to the Friends of Dunvant Park and our local community to raise the money for it
Sponsorship
If you'd be able to sponsor my swim, I'd be really grateful. You can donate via the Wonderful.org website – a sponsorship site that doesn't take any cut from the money raised, so all the money you donate will go towards the fence.
If you aren't able to sponsor me, you can still help by sharing this article with your friends and colleagues on social media and LinkedIn. 
You can follow my progress on the donation page, and I am intending to post updates online on social media.
Related: Recycle Ella's Kitchen Products at McCartan / McCartan & Gas Safety Week 2018