What does Swansea's £500m regeneration bid mean for the rental market?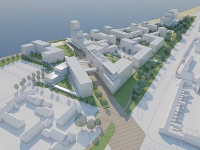 Approval of the much anticipated bid for Swansea City Centre's &500m regeneration was announced earlier this month.
The first phase includes developing the St David's site into retail and residential accommodation, with office spaces and even a cinema. On the other side of Oystermouth Road, a 3,500 seat area will be built on the existing car park beside the LC Leisure Centre, along with a 13-story residential block or hotel.
The second phase involves demolishing the Civic Centre and creating a 'City Beach', which would also include an aquarium and digital science centre.
Supply and Demand

In the short term, newly built city centre apartments may drive rents down as tenants choose to live in the newest of properties.This is a trend we see with every new phase of developments being completed, (Copper Quarter, Fisherman's Way, etc), but once all of the flats are occupied and supply levels normalize, then rents stabilise too.
Comparable Markets 

Swansea Marina apartments have seen a huge uplift in asking rents over the past 5 years, driven mainly by the foreign student market where an average salary is &1900 per month. Rents in this area are typically around &850pcm, but for apartments with sea views, they can go up to &1,200, showing how much demand there is at the moment, with the redevelopment just beginning.
The average rent according to Zoopla for a 2 bedroom Swansea Marina apartment is &788pcm; the most expensive currently available is &2000pcm, and the cheapest &625pcm.*
Check out this immaculate 2 double bedroom apartment on the promenade (Fisherman's Way): click here to view the brochure.
Student Driven Market

As long as the universities carry on having strong ties to the overseas students, the demand for high end accommodation will be there. Brexit concerns have already deterred EU students from the UK education system, but there are wealthy countries that still see Swansea University as the place to be for their students.
A Boost for the Region

Ultimately, regeneration of Swansea City Centre has to be a priority if we want to see economic growth; more investment will mean more jobs, better pay, and more demand for quality housing as demand to live in a 'City Beach' increases.
If you are planning to invest in Swansea ahead of the regeneration, or have a property already available to let, why not give us a call to discuss your requirements on 01792 430100, or email me at hannah@mccartanlettings.co.uk. 
Source: Zoopla

Related: Swansea regeneration set to boost rental demand

*correct at 13/06/2017, according to Zoopla