Rents slow in Wales after record growth for Swansea in 2016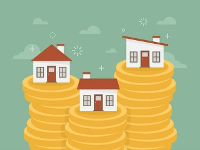 Last year, Swansea topped the charts of rental growth with an annual increase of 11.2% according to the annual Rightmove report. But with an oversupply of rental property since the stamp duty changes last year, and tenant demand waning due to Brexit fears, the first quarter of 2017 has seen the first signs of the rental market slowing.
Rental Prices
The report shows rents in Wales as a region are down 5.2% in the first 3 months, but have increased by an average of 2.2% overall annually.
Overall, the UK has seen a growth of 1.8% - its lowest increase since 2014 and less than half the annual growth of 3.9% recorded a year ago in Q1 for 2016.
Increased Supply
The reason for the general slow-down has been put down to a 12% increase in supply of rental property - a hangover from the rush of buy-to-let purchases last April before the 3% surcharge on stamp duty came in.
The impact of this has been surprisingly prolonged. As expected, there was an immediate increase in supply as some of the new rental properties were available to let straight away, but the increase continued through the year as other investors spent time renovating, and waiting for tenancies to end. Across the UK, tenants have had the most choice since 2014, which in turn has slowed the growth of rental prices.
Increased Demand
However, even with the surplus rental stock, ARLA have reported that demand for quality rental accommodation is still increasing - up 10% from last year. So, with Rightmove's report showing a 12% increase in stock from last quarter, the supply and demand is generally matching.
The time it takes to let a property in the U.K. is on average 10% longer (also reflective of the choice of stock tenants currently have), except in Wales, where it is 5% quicker than last year/quarter.
But what does this all mean for the Swansea rental market?
Hannah McCartan, MD of McCartan Lettings comments, "Last year's growth in rents in Swansea was unprecedented, and certainly bucked the regional trend of only 2.2% annual growth - but let's not forget that rents in Swansea have remained pretty stagnant for the last 10 years, so our rental market was due a boost. Growth at that rate is unsustainable, so a little correction isn't unsurprising.
Swansea's in a very positive place right now when it comes to investment and development of the city and region, so looking at how Swansea's rental market is standing out from the crowd regionally, we predict demand for quality rental housing is still set to outstrip supply for the foreseeable future.
A major part of our role as letting agents in Swansea is keeping our landlords up to date with the latest local news which affects the property market. Our knowledge of supply and demand in various areas across Swansea enables us to offer advice on where the best buy-to-let properties are, and how to make more from their rental properties.
At McCartan Lettings, we don't do sales, so you can be sure our advice on where and what to buy is unbiased."
If you are looking to get more from your property investment, or looking to buy to let soon, give the McCartan Lettings team a call on 01792 430100.
Sources
:
ARLA
 / 
Rightmove