Case Study: Making more money from your property investment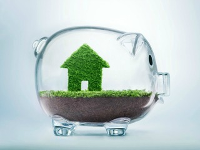 I recently mentioned in a blog about the importance of reviewing your mortgages ahead of the big changes to lending criteria coming into effect this year. By regularly reviewing your buy-to-let mortgages, you could save hundreds of pounds in unnecessary interest payments – or, to put it another way, make more pre-tax profit on your property investment!

The results of my own buy-to-let mortgage review were actually pretty surprising. I only purchased the property in 2014 and thought then that we were at the 'bottom of the market' where interest rates were concerned. So, this month, I will be using my own experience of re-mortgaging as a case study to illustrate how crucial reviewing your buy-to-let mortgage is.

Don't put off reviewing because you are in a fixed deal
Most lenders will hold a mortgage offer for up to 6 months, so don't be put off by not being at the end of your fixed mortgage term - in fact, having more time to deal with the application process is a bonus.

As rates are so low at the moment, it may even save you money in some instances to re-mortgage early onto a lower rate and pay a redemption charge (check the small print carefully to find out what your redemption charges, if any, are). As I applied for this mortgage last year whilst I was still in my fixed term, I was able to secure a rate lower than is currently on offer, and have switched mortgage providers without any penalties.

Review the rent
The property in question was achieving &625pcm and hadn't had a rent review in about 5 years. When the property became vacant again, it was a natural time to review the rent and increase it in line with the current market value of &750pcm. The property let quickly, bringing in &125pcm more than it had before, which could be factored into the new mortgage calculations.
Not every property will have such large increases in rent, and it's always worth waiting for a natural void period before making drastic changes to the rent (you don't want to risk losing good tenants!), but an annual review is certainly worth considering.

Review the value of the property
As with any good property investment, it needs to be bought at a good price (ideally below market value, BMV), which this particular property was. The plan was always to release the additional equity at the remortgage point to then re-invest, though the Bank of England want to restrict landlords doing this in the very near future. The property was cautiously valued, but with the increased rental income, an additional &10,000 was available to be released.

Increase bottom line profit
The maths: the original mortgage (interest only) was on an interest rate of 3.79%, which cost &342.00pcm. The new mortgage is fixed for 5 years at an interest rate of 2.99%. Just by reviewing the mortgage alone, I was able to make a 30% saving on my old mortgage interest payments. That's &105.29pcm - over the life of the 5 year mortgage, &6,360.00!
Even factoring in the higher loan amount with the equity release, the interest payments are still only &261.63 pm, which is 26% cheaper than before, saving &80 a month.
So, by doing this exercise, I was able to get a cash lump sum up front to reinvest elsewhere, and be &4,800 better off over the lifetime of the mortgage, which will show in the bottom line profit for the property.

Plus, having a strategic plan in place to do a rent increase prior to the remortgage, the overall value of the exercise is &22,000!

N.B. The loan arrangement fee was &995.00, and will be paid with the extra income generated in 5 months, to save it adding extra to the mortgage in compounding interest costs.

My experience wasn't completely hassle-free, and being self-employed has its own unique challenges to overcome, but by looking at remortgaging now with interest rates at record lows, releasing equity from your property and bagging a lower rate mortgage could mean you are getting free money, in essence, to invest elsewhere.

Everyone's financial situation is different, and I am not a financial adviser, but I hope this case study has given some insight into the way I think about maximising the financial potential of my own property. By sharing my own experience, I can help landlords to make the most of their property investments, too.

It's not too late to review your portfolio. Get some good, professional financial advice, and give me a call on 01782 430100 to see if you're property investment could be working better for you.