Buy-to-Let Deals of the Month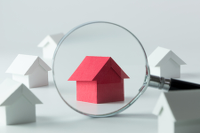 The area of Sketty in Swansea (SA2) has always been a popular choice for tenants due to its location and proximity to Singleton Hospital, Swansea University, and its highly acclaimed secondary schools. These factors draw tenants from a diverse range of demographics, meaning there is demand for properties to suit every situation from single professional to large, established family.
SA2 isn't the most obvious choice of Swansea postcode to invest in as the average house price in the area is &219,373, and the average rent is &682pcm*, meaning a yield of just 3.7%, but if long-term, professional tenants are what you are looking for, SA2 is definitely worth considering.
Here are a few properties in Sketty that could make good property investments: 
Sketty, SA2 – 2 bed house, &127,500
Click here to view the brochure on Zoopla
With a flat, south-facing garden and Sketty Primary School within walking distance, this property would be ideal for a young family. It is located on a quiet cul-de-sac a few minutes' drive from the University and Single Hospital, making it ideal for professionals, too.
The property should achieve &600pcm in rent, which would bring in a yield of 5.76% (assuming a purchase price of &125,000). There is scope for improvements to be made to the kitchen and bathroom, which could increase the property's value.
Sketty, SA2 – 1 bed flat, &70,000
Click here to view the brochure on Zoopla
This property has been on the market for a while (for no obvious reason, so the question would need to be asked), but on the face of it, flats like this are very easy to renovate and are always in demand from single professional tenants.
A renovation would add capital value, and if done nicely, this property would easily achieve &500pcm in rent. The yield before service charges would be 8.5%, but even with them is still a healthy 6.9%.
Parkway, SA2 – 3 bedroom house, &50,000
Click to view the brochure on Zoopla
Not for the faint-hearted, this property would be better suited to a more experienced property investor with finance in place not only to be able to bid at auction for it, but also to carry out a hefty renovation.  If they happened to be a builder and could undertake the work themselves, that would save on costs.
A newly-renovated property in this area would achieve around &600pcm, so  depending on the final purchase price and renovation costs, this property could have a very good return on investment, along with increased capital. 
Even if these properties are not what quite what you are looking for, they should give you some insight into the questions you need to be thinking about when looking to invest in  buy-to-let property in Swansea.
Have you already got some investment properties in mind? Why not drop me an email with the brochure attached, and I'd be more than happy to look over them for you and give you my thoughts! You can send them to hannah@mccartanlettings.co.uk.
Related Articles: What makes a good property investment? / How Stamp Duty is affecting BTL decisions in Swansea