Swansea House Prices Below 2007 Peak, but Rents Up 26%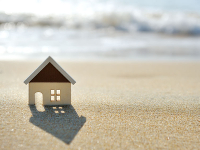 So, is 2018 the time to invest in BTL in Swansea?
Hometrack have released their monthly House Price Index for June 2018 listing the average house prices of all the cities in the UK.
The Hometrack UK Cities Price index is the only UK index that analyses housing market trends not only at a regional and national level, but also at a city level.
What makes their report interesting is that they highlight top performing areas for house price growth, and also compare them with house prices from 2007 – when prices were at an all-time high before the financial crash.
2007 Peak
The top area for house price growth in the past year is Newport, with 12% growth – undoubtedly thanks to the Severn Bridge tariffs becoming cheaper -, whilst the biggest loser was Prime Central London (PCL), where prices are down 4%.
Taking the PCL market out of the question (because their average house price at a mere &1,024,30 skews the data!), Aberdeen is the next city with the greatest reduction with prices at 2.8% below what they were in 2017, and still 3% below the 2007 peak.
Swansea is listed by Hometrack as having an average house price of &136,400. This is 4.9% growth on the last year (2016/17 only showed 1.7% year on year growth). However, Swansea house prices are still down 2% from their 2007 peak.
It's interesting to contemplate that 11 years ago, property prices were marginally higher yet rents were much lower. Buy-to-Let in Swansea was booming in the lead up to the financial crash as many property investors were undeterred by the exceptional rate of growth and were focusing only on long term gains.
Of course, no one could really grasp the enormity of what was about to happen, but fast forward 11 years and, in part thanks to the crash, demand for long term quality rentals are up -  and so in turn are rents.
Average Asking Rent in Swansea
Back in 2007, the average rent we were achieving across our portfolio (here at McCartan Lettings) was &512.87pcm. Today, our average rent is &650.74pcm, which is a 26.8% increase.
Therefore, a savvy investor looking to buy to let in Swansea who can find the right property in the right location (for their desired market/tenant)  at the right price will be buying at less than 2007 prices, and benefiting from 2018 increased rental incomes.
If you're thinking to investing in buy-to-let in Swansea, or if you think your property might be due a rent increase, and you'd like some advice, please feel  free to get in touch with the team in the office on 01792 430100, or click here to email us.
Source: Hometrack
Related: 5 Top Tips for Buying BTL Property at Auction / Rapid Return to Swansea City Centre Living