McCartan Fundraising for Local Playground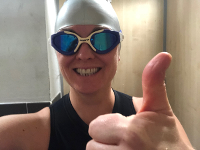 I am swimming the length of the English Channel from Calais to Dover – a whopping 22 miles, in 12 weeks! – to raise funds for the construction and installation of a fence for Dunvant Park Playground.
The playground is desperately in need of a fence. The park is a wonderful community space, but the playground isn't enclosed, and so isn't as safe for young children as it could be.
There are no grants available for this kind of project, and so the Friends of Dunvant Park Charity are raising money from the community.
As a member of that community and someone who uses the park and the playground, I want to do my part, too.
Anything you can give would be greatly appreciated. I will be posting updates both here and on social media as I go, so you are welcome to track my progress to Calais! Friends of Dunvant Park are aiming to raise &5,000 for the cause.
If you are able to help by sponsoring my swim, I'd be really grateful. Click here to donate.
If you aren't able to donate, you can still help by sharing this article or my sponsorship page.
So far, I've swam 10 miles. Just 12 miles to go!