Lets with Pets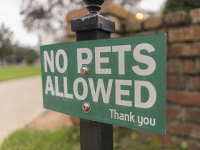 Pets in properties have always been an issue in the Lettings industry. In a bid to win votes,
Labour
have proposed a series of animal welfare measures this week that include giving tenants a "default right" to pets.
The proposal would mean that landlords would not be able to advertise their properties as "no pets allowed". They would also have to show evidence that the pet would be a nuisance in order for the applicant to be refused on the ground of having a pet.
Reasonable Refusal

Since 2015, there have been restrictions in place to limit the grounds on which a landlord can refuse to tenant a pet – but consent can be withheld if it is considered to be reasonable.

Landlords have many legitimate reasons for not wanting a pet in their property. Some properties are simply not suited to certain types of pets, and there are concerns around the higher risk of damage, flea infestations, and possible allergy issues for future tenants.

Some landlords even have severe allergies to pet hair themselves, so wouldn't be able to enter the property to undertake routine visits if a pet was present in the property.

A member of McCartan staff visited a property last year where there was a pet present, and had to be doused liberally in flea-powder upon returning to the office as he'd caught fleas!

Higher Demand for Lets with Pets
There are many benefits to accepting a pet (or two!) in a property, if the property is suitable to house them.
The demand for pet-friendly properties is high due to the supply (and quality) being so low. In turn, tenants with pets are generally open to paying higher deposits, and agree terms in their contract to pay for professional cleaning and specialist flea treatments at the
end of the tenancy
.
Tenants with pets are also more likely to be looking for long term accommodation, and are generally more inclined to want to be settled, and make the property their home.
Worst Case Scenarios
From an animal welfare position, accepting pets also reduces the amount of animals that end up in rehoming centres (such as
Llys Nini
, and
Cats Protection
, both in Swansea) because their owners were unable to move with their pet. In the worst case scenarios, healthy animals are being put down if they cannot be re-homed.
Currently, over 5 million households rent across the UK, and the majority of landlords have concerns over accepting pets.
Whilst it is unlikely that anything will come of this proposal in the short term as the next election is still 5 years away, it does open the debate around animal welfare in the rental sector.
Social Impact

If more discussion is had about how landlords can be better protected against their biggest concerns around accepting pets, lets with pets are likely to become more common – without the need for heavy-handed Government legislation forcing people into it and driving landlords out of the sector.

Since renting in general is becoming more common, it makes more sense to expand the Lettings industry than to shrink it.

Labour have said they will be consulting with industry bodies on the subject.

Protecting Your Property
We at McCartan Lettings always encourage landlords to accept pets where the property is suitable. There are several, easy-to-implement ways in which a landlord can protect their properties against accidental pet damage, such as taking a higher deposit, and having additional clauses in the contract for professional cleaning and flea treatments at the end of the tenancy.
In some instances, landlords can also insist the tenant takes out a 3rd party policy for pet damage, which is usually added onto their contents insurance.
Having a professional inventory is also essential to avoid doubt on the condition of the property at the start of the tenancy, and makes claiming against a deposit much easier.
If you are considering renting your property in Swansea and would like some free professional advice on letting with pets, please contact us on 01792 430100, or
click here to email us
.
Sources
:
Letting Agent Today
/
BBC
/
Property 118
Related
:
Pets Considered
/
Teaming up with Ella's Kitchen to Save the Planet
/
Are You Liable for Paying Your Tenant's Water Bill?