7 Tips for Buying Your First Home in Swansea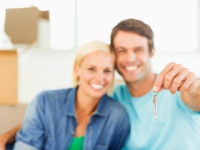 Moving house is a major milestone for anyone but it's especially so if you're a first-time buyer. With a little research and a bit of support, it really doesn't have to be difficult. It's the start of a new adventure and something to enjoy.
Swansea is a thriving Welsh city, perfect for those looking to find their forever home. With an array of excellent schools, over 50 natural beaches to visit and a lively nightlife, it's a home to suit every personality. It's always helpful to find a great area to begin your search and Swansea is the perfect start.
From comparing
Swansea removal companies
to negotiating the offer, we have a range of useful tips to begin your research and set you on your moving journey. We aim to make your experience as easy as possible, so have a browse and discover our top tips for buying your first home in Swansea.
7 Top Tips
1. Start Saving as Soon as Possible
The first top tip is to plan and prepare. You need to ensure that you're financially capable of maintaining a mortgage and won't be stressing over future costs. It's never too early to start saving for that crucial deposit. Make sure that you're debt-free when walking into the process of buying your first home. It'll give you extra peace of mind and can greatly help when applying for a mortgage.
Give yourself a budget and work out what payments you'll need to save for and by when. The deposit is the most vital, so keep that at the top of your list. But don't forget about the extras: property surveys, removal companies, legal costs. You won't need to pay everything off all at once, but it's better to be prepared. Don't forget to compare companies and quotes online to find the best deal for you.
2. Explore the Area Beforehand
Swansea is a large area and so it's better to research the places you're interested in before committing to the final decision. Look at the
most expensive streets
and find somewhere within your budget. There's nothing more disappointing than finding the 'perfect home' in an area you can't afford. Don't limit yourself to one place, branch out further and compare the costs as well as the lifestyle.
Find out what transportation is available to you there. Is there a doctor's surgery close by? Are the local shops within walking distance? These may seem like obvious questions but it can be surprising what you forget when you only focus on the property itself. Take a moment to step outside and notice what's around you before you commit.
3. Speak to a Mortgage Advisor
Once you've worked out your budget it would be wise to find a reliable mortgage advisor to speak to. They will help you by looking at your income, any remaining debts you have and your deposit to determine how much you'll be able to borrow from a mortgage lender. This will provide you with a realistic goal to help you prepare and begin the process. This is when you should also be able to get a mortgage offer in principle which shows sellers that you're financially ready and a reliable buyer.
Looking for a mortgage advisor? McCartan Lettings can put you in touch with a recommended Swansea-based mortgage advisor to help with this step.
4. Research Help to Buy Schemes
If you're concerned about not having the money in time, then worry not! There are ways of getting help when saving for your first deposit. The
Help to Buy Wales
schemes are a great way to get onto the property ladder and quickly save for your first home. There's a variety to choose from so it's important to research all options. Here are a few of the government schemes available to you as a first-time buyer in Wales:
Help to Buy ISA - First-time buyers can use the ISA to save for a 5% deposit where the scheme will then provide a shared equity loan of up to 20% of the purchase price. The remaining amount can be covered by a mortgage. The scheme supports the purchase of homes up to £300,000 bought through a registered Help to Buy builder in Wales.
Shared Ownership Wales - If you cannot afford the full purchase price but are still considering buying, then Shared Ownership is an option for you. Shared Ownership means that you can buy an initial share of 25%-75% of the value of the property and pay the rest through rent. This share can then increase over time.
Homebuy Wales - This scheme helps low-income households by providing an equity loan to assist with purchasing. You will need to contribute 70% of the purchase price through a mortgage and then repay the equity loan once you resell the house.
Rent to Own - If you're currently renting a property in Wales but are looking to save for a deposit, then this scheme may be able to help. Whilst renting, you'll be able to gradually build up lump sums to afford the deposit. This agreement lasts up to 5 years but you can apply to buy your home between the end of year 2 and at the end of the agreement.
Research which schemes you're eligible for and how they could help you get onto the property ladder. As daunting as it can be to commit to a property purchase, you don't have to do it alone. These schemes are available to give you a great starting step to becoming a homeowner.
5. Consider the Additional Costs
Some people only focus on the initial deposit when saving to buy a house. However, you shouldn't neglect the additional costs that are required. You'll have to compare removal companies, surveyors and conveyancers until you find the best deal. You'll also have to start thinking about utility bills and possibly stamp duty. Keep in mind, that as a first-time buyer, you'll only have to pay stamp duty if the Swansea property costs more than £300,000.
You'll have to factor in the mortgage arrangement fees and also Land Registry fees that come from registering ownership of the property. There's definitely a lot to consider when buying a house, but when you create a budget, plan or even a simple list, it'll be much easier to handle. If you give yourself time, you'll have enough saved up to have a great starting point for the process.
6. Don't Be Afraid to Negotiate
It's okay to be nervous during your first sale, but it's important to know that you're allowed to try negotiating and
haggle over the price
. Not every seller will be persuaded, but most are aware that it's unrealistic to think that their property will go for the original asking price. Negotiating is a rather common step to buying your first house.
It may not seem like it, but being a first-time buyer is actually an advantage. Many sellers find first-time buyers the more attractive buyers as they have no property chain associated with them, meaning that it's more likely the transaction will be completed quickly. Use this advantage to promote yourself and don't be afraid to at least try.
7. Have All Your Paperwork Ready
Once you have an offer accepted, it's time to start arranging all the necessary paperwork. You'll need copies of your ID and utility bills and you'll have to share them with your estate agent and conveyancer. This will also be when you'll need to start the mortgage process. This may entail resubmitting paperwork so it's always good to keep copies as you go along. You'll need to send recent payslips and bank statements to your mortgage lender.
Buying your first house can often feel like a long process. But the more you prepare, the easier it becomes. There's plenty of help for first-time buyers in Swansea and the UK in general, you just need to know where to look and what you're eligible for. It may seem daunting but just breathe through the process. Remember, it's an exciting journey and a major milestone to be celebrated. Like most things in life, it's never as difficult as you first think.
About Compare My Move
Compare My Move
is the UK's fastest-growing comparison website for home movers looking to connect with reputable, fully verified removal companies, RICS surveyors, and conveyancers. You can visit their website by clicking here.