Deepening Divide between Homeowners and Tenants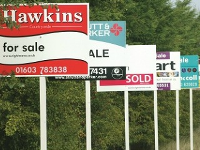 The average house price here in Wales has reached an all time high of &174,319, deepening the divide between homeowners and tenants as tenants say farewell to pay growth and expend on higher rents. 
The UK's obsession with house prices is a troubling one. Homeowners are keen to hear their property has increased in value, but the conflict arises with the lack of affordability within the first time buyer market over the last 10 years. The BBC reports that average weekly earnings are still 11% lower than they were at their peak in 2008, and actually fell 0.4% in the first quarter of 2017, yet house prices are at their highest since the crash.
Stephen Clark, an economic analyst from the think-tank The Resolution Foundation, says "four per cent of the workforce are experiencing shrinking pay packets according to the latest figures, in sectors ranging from finance to the public sector.
Many more will join them in the coming months as inflation continues to rise, with pay across the economy as a whole set to have fallen in the first three months of 2017."
Gap between house prices and wages set to be 75% by 2020
Research undertaken by online agent Emoov found that since the introduction of 1% cap on public sector wages in 2012, public sector employees wages have grown by just 6.03%, while the average UK house price based on Land Registry data has increased by &50,000 – 31.12%.
In 2012, the average house price was &167,854, but the average public sector salary was just &25,060.
With a mortgage lender typically lending 4.5 times this wage and a 10% deposit of &16,785, a public sector employee could only afford to buy a property at a value of &129,556 – a difference of 29.56% between that and the average house price, the research shows.
Average Swansea wage &24,481 
Since 2012, the gap has continued to widen, increasing by 29.59% in 2013, 37.27% in 2014, 41.61% in 2015, and 49.45% in 2016. So far, 2017 has seen the largest gap emerge at 55.46%, with the average house price topping &220,094, yet the average public sector wage has continued to stagnate at &26,571.
As a result, a public sector employee today can only secure a mortgage for a property valued at &141,579 (including the 10% deposit of &22,009), according to the research.
If it continues at this rate, the gap will be even worse by 2020, when the cap is due to end. Based on the last three years of both house price and public sector wage growth, the average house price could be in the region of &263,940, with the public sector wage reaching just &27,581. If this were the case, public sector employees would only be able to secure a mortgage on a property to the value of &150,507 with a 10% deposit of &26,394, a gap of 75.37%.
Inflation – is Brexit to blame?
Mark Carney, Governor of the Bank of England – "Brexit is likely to make people poorer".
When prices rise faster than wages, spending power falls. Whilst the past few years have seen low inflation, it has been boosted by Brexit, and is set to increase further thanks to the rising price of imports and the falling value of the pound. This could be an indicator of how Brexit could continue to affect the housing market indirectly as the trend of house price growth and less in people's pockets is set to continue.
And this trend is worrying – as lack of supply, increasing landlord costs, and rising inflation cause rents to rise, tenants will feel the squeeze, and they'll be less able to borrow money as mortgage restrictions are also being tightened. Until wages start to increase, less people will be able to afford the 'average property', and 'affordable housing' will quickly become unaffordable. Rent increases will hit a ceiling as affordability for rents becomes an issue, too.
If tenants cant afford to buy, this reduces demand for house purchases. The Halifax reports that house price growth is at a 4 year low  as buyer demand weakens, but unless house prices come down significantly, or wages increase significantly, the forecast for home-ownership is bleak.
Sources:  Zoopla / Property Industry Eye on Low Demand / Property Industry Eye on Price and Wage Gap/ Property Wire / BBC on Pay Growth / BBC on Carney